Square Enix has revealed new tactical RPG The DioField Chronicle
The game will release in 2022 for consoles and PC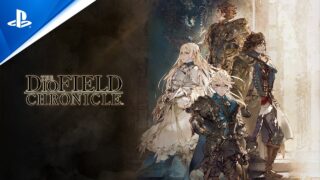 Square Enix has announced a new tactics game, The DioField Chronicle.
The game will release in 2022 for PS5, PS4, Xbox Series X/S, Xbox One, Switch and PC via Steam.
The game's reveal trailer, which you can view below, bills it as "an all-new tactical RPG with a deep and engaging story brought to life with a stellar cast, mesmerizing soundtrack, and introducing the new 'Real-Time Tactical Battle' system (RTTB)".
The DioField Chronicle - State of Play Teaser Movie | PS5, PS4
Square Enix marketing lead Noriko Ozaki revealed more about the game in a PlayStation Blog post.
"The DioField Chronicle is an epic tale of war and honor. Featuring a unique and beautiful world that blends fantasy, medieval and modern-day influences with a deep yet innovative real-time battle system."
Ozaki went on to explain the game's "diorama-style battle scenes", saying: "Richly detailed depictions of the environments and cultures of the island of DioField combine with unique diorama-style visuals to create a beautiful yet easy to follow spectacle."
The blog also gives some insight into the game's narrative.
"War looms dark over the Rowetale mainland… Commanding a disciplined army and versed in modern magic, the Empire is a power to be reckoned with. Despite the combined strength of the Alliance, they were largely powerless to resist the Empire's advance.
"The continent was ravaged by the devastating war between the Empire and The Alliance. However, one nation remained unaffected by the chaos, The Kingdom of Alletain on the isle of DioField, situated off the north-western coast of Rowetale.
"Jade, the precious resource used to power modern magic and technology, is believed to be abundant on DioField, bringing it to the attention of both the Empire and the Alliance. The Kingdom of Alletain looked destined to have its soil stained with the blood of battle."