Squadrons dev Motive is already working on a 'new Star Wars action game'
Plus an original IP, job ad suggests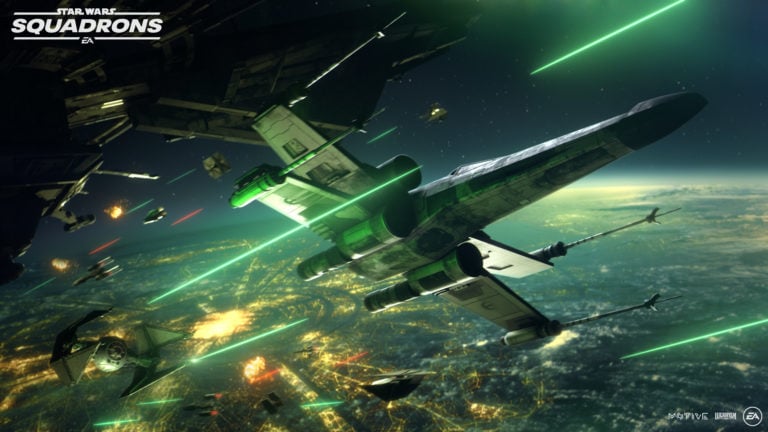 Star Wars: Squadrons developer Motive is already working on a new Star Wars action game.
That's according to a recently published job ad for the Montreal-based studio, which claims that it's also working on an original IP title.
The Electronic Arts studio has undergone a rebrand following the release of Squadrons this month, which is its first fully-developed title since the company was formed in 2015. It previously collaborated on DICE's Battlefront 2.
In a blog post published earlier this month, Motive GM Patrick Klaus detailed the studio's new mission to create games which "empower players to create, experiment, live and share their own unique stories."
He said: "In the days leading up to the release of Star Wars: Squadrons, you may have seen our refreshed brand logo and that's what I'm here to talk more about."
He added: "In addition to Star Wars: Squadrons, we're also working on several unannounced projects. Innovation is tough, but it's also exciting and energizing.
"With our new mission, we're trying a lot of things and testing many ideas which you can't get attached to, as iteration and experimentation are healthy and a key to finding something great.
"The team is super talented and we're all striving to make aspirational games that push the boundaries of what players expect now and into the future."
Electronic Arts CEO Andrew Wilson recently said the company intended to "double down" on the Star Wars license following a string of recent successful game releases.
EA's previous Star Wars title, Respawn's Jedi: Fallen Order, exceeded expectations with over ten million sales, and Wilson claimed in June that the first two Battlefront games had sold more than 35 million units combined.
EA's relationship with Star Wars has also experienced its challenges. Battlefront 2 attracted significant criticism for its reliance on the loot box mechanic, a feature that the publisher removed just hours before launch.
EA's now-defunct Visceral studio also spent two years developing a Star Wars heist game called Ragtag under prominent game director Amy Hennig (Uncharted) before it was cancelled. Another Star Wars project, 'Orca', was then reportedly spun off of Ragtag, only for it to be cancelled in 2018.
Earlier this year Kotaku reported that EA had two Star Wars games in development, including a sequel to Respawn's Star Wars Jedi: Fallen Order.
Related Products
Other Products
Some external links on this page are affiliate links, if you click on our affiliate links and make a purchase we might receive a commission.