Sports Direct now owns 84% of retailer Game
Specialist games retailer applies to be delisted from London Stock Exchange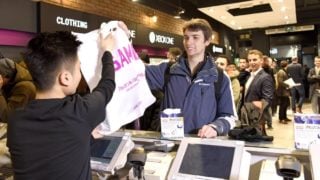 Sports Direct's takeover of Game Digital has edged closer as the company revealed on Monday it now owns 84% of the high street retailer.
In a trading update, Sports Direct said that as of July 12, it owned or had agreed to acquire approximately 83.88% of Game Digital's total shares, with any outstanding transactions expected to be completed by July 16.
As a result, Game Digital has applied to be delisted from the London Stock Exchange, which is expected to take effect on August 12, and it has urged remaining shareholders to sell up before then.
"If you do not accept the Mandatory Offer, you will become a minority shareholder in an unlisted subsidiary of Sports Direct, with no certainty of any future opportunity to sell your GAME Shares," it said.
Sports Direct, which is led by Mike Ashley, increased its stake in the specialist games retailer to 38.49% in early June, resulting in the company having to make a mandatory cash offer for the rest of the business under the takeover code.
It offered 30 pence for each Game share, valuing the remainder of the business at £51.88 million. At the time it represented a premium of over 27% on Game's share price, which stood at 23.55 pence. It opened today at 30 pence.
If Sports Direct can take ownership of 90% of Game Digital's shares, it will be allowed to automatically buy the remaining stock.
Should its takeover bid prove successful, Sports Direct plans to undertake a year-long review of the business which could result in the consolidation or closure of Game sites and potential layoffs.