Sports Direct in £52 million Game Digital takeover bid
Company required to make cash offer after increasing stake in game retailer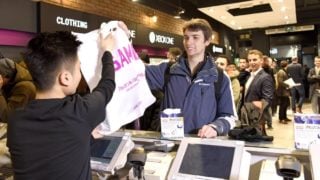 Sports Direct has launched a £51.88 million Game Digital takeover bid.
The sportswear retailer, which is led by Mike Ashley, said on Wednesday it has unconditionally agreed to increase its stake in the specialist games retailer from 29.9% to 38.49%.
As a result of the share acquisition, which is expected to settle on June 7, under the takeover code Sports Direct is required to make a cash offer for the rest of the business.
It has said it will offer 30 pence for each Game share in what it called a final offer that won't be increased.
That values the remainder of the business at £51.88 million, representing a premium of approximately 27.4% on the closing price of Game shares on June 4.
Sports Direct has been an investor in Game since July 2017 and the pair are joint owners of the Belong IP, which is an in-store esports offering.
It said on Wednesday: "The retail and gaming sectors are fast moving and currently subject to challenging conditions. Sports Direct does not believe that, as a standalone business, GAME is able to weather the pressures that it is facing.
"Sports Direct believes that the Offer, in providing GAME with the wider benefit of Sports Direct's operating and other experience and increased support, will secure GAME's future and allow it to navigate these pressures whilst contributing to GAME's long-term sustainability by escalating the evolution of the BELONG business and accelerating the next stage of GAME's development."
If Sports Direct's takeover bid is successful, it plans to undertake a year-long review of the business.
"In particular," it said, "the review will focus on whether the existing GAME sites should be consolidated with others in the Sports Direct Group, re-purposed or closed, including by looking to consolidate GAME sites into Sports Direct's and open BELONG stations and arenas within Sports Direct, House of Fraser or other Sports Direct Group locations, focussing on the customer experience and experiential retail offering."
Sports Direct added: "The review could result in consolidation or closure of GAME sites and a consequent reduction or relocation in the employment of GAME's employees and management (and those of its subsidiaries) and a change in the balance of skills and functions. The review may also result in changes to the headquarters, headquarters functions and distribution centre and to the general operations of GAME."