Spoiler warning: Pokémon Scarlet & Violet leaks are already appearing, 11 days ahead of release
Screenshots of unseen Pokémon are starting to appear on social media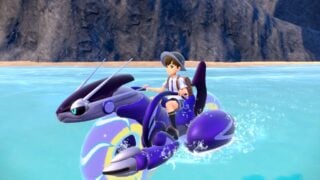 Previously unseen Pokémon Scarlet & Violent content is already starting to leak, more than a week and a half before the game's release date.
Although The Pokémon Company typically maintains strict secrecy around its games before release, it appears that some copies of its latest title are now in public hands, leading to the potential for spoilers.
Leaked screenshots started appearing on social media around nine hours ago at the time of writing – approximately 8pm EST on Sunday / 1am GMT on Monday.
YouTuber Austin John Plays posted a 'PSA' video a few minutes later, informing viewers that leaks had just started to appear, and warning that they would likely start to spread on social media.
Pokemon Scarlet and Violet Guides:
Pokemon Scarlet and Violet walkthrough, tips, and Pokemon locations | Roaring Moon location | Iron Valiant location | Shiny sandwich recipes | Pokemon Scarlet and Violet Legendaries | How to find Shiny Pokemon in Scarlet and Violet
The main source at the moment appears to be coming from a Spainish-speaking country, as many of the leaked screenshots have Spanish dialogue. A number of these screens show Pokémon who have not yet been officially revealed.
One social media account has been collating screenshots and posting them for a few hours before deleting them, while encouraging their followers to save and repost the images.
It may not be long, then, before the images are widely shared across social media, which may make them hard to avoid.
At the moment the leaks appear to be restricted to one or two sources, but with 11 days left until the game's release, there will be concern from Nintendo and The Pokémon Company that the game already appears to have ended up in some players' hands.
It's not the first time the Pokemon series has suffered a high-profile leak in recent years: When Pokémon Legends: Arceus was released in January, dozens of players were already streaming the game on Twitch a week before the official release date, due to a build of the game shared on piracy sites.

In November 2021, Twitch users also started live streaming early copies of Pokémon Brilliant Diamond & Shining Pearl, as much as ten days before their official release.
The most high-profile Pokémon leaking incident occurred in February 2020 when Nintendo publicly cut ties with a Portuguese website after it was found to have been behind some pre-launch Pokémon Sword and Shield leaks.
Related Products
Other Products
Some external links on this page are affiliate links, if you click on our affiliate links and make a purchase we might receive a commission.