Spider-Man PS5 'could release sooner than we think,' journalist claims
Sequel to Insomniac's 2018 title reportedly well into development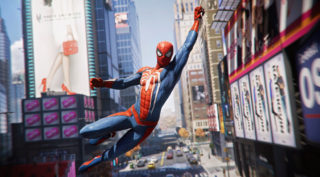 Insomniac is working on a sequel to Marvel's Spider-Man that will be released "sooner than we think," according to games journalist Imran Khan.
Speaking on the latest Kinda Funny Gamescast (transcribed by Push Square), Khan suggested that the follow-up to the best-selling superhero game could arrive as early as Christmas 2021.
"I know too much about [Marvel's Spider-Man 2], so I can't speculate too much," he said. "I think a Spider-Man 2 will come sooner than we think."
Released in September 2018, PS4 exclusive Spider-Man was widely praised by critics and has now sold 13 million units worldwide, according to publisher Sony.
The huge success of the title contributed to Sony Interactive Entertainment acquiring California-based Insomniac Games, the developer also known for Resistance and Ratchet and Clank.
Significantly, SIE has been using Spider-Man to demonstrate PlayStation 5's new SSD tech.
During its corporate strategy meeting in May, CEO Kenichiro Yoshida showed a video comparing load times in Marvel's Spider-Man running on both PS4 Pro and its next-generation PlayStation hardware.
As described in the first PlayStation 5 details article, the next-gen PlayStation demonstrates dramatically reduced load times compared to PS4 Pro, with the camera able to fast travel near-instantaneously and speed through the city without pausing for asset loading.
What takes eight seconds to load on PS4 Pro takes less than one second on PS5.
Sony recently announced a holiday 2020 launch date for PlayStation 5 and went into detail on the PS5 controller, which is set to feature haptic feedback, "adaptive" triggers and more.