Spider-Man developer 'isn't saying what comes next' after Miles Morales
Story threads from the first game might not get resolved in this chapter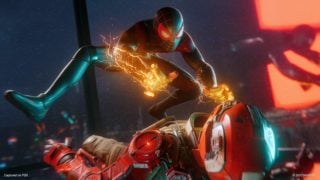 Insomniac Games has reportedly refused to be drawn on any DLC plans it might have for Spider-Man Miles Morales.
Marvel's Spider-Man's The City That Never Sleeps DLC included three story chapters featuring extra missions and challenges, new enemy factions and additional suits to unlock.
But according to an-depth Miles Morales preview in the latest issue of Game Informer, Insomniac "isn't saying what comes next for this one".
Insomniac creative director Brian Horton also suggested that story threads from the first game might not get resolved in this chapter.
Horton didn't completely rule out the Venom and Green Goblin teases at the end of Marvel's Spider-Man being picked up in Miles Morales, but he made it sound like a remote possibility.
"The threads from the first game still exist, but we're really focusing on Miles' chapter and how he is going to become Spider-Man," he told the magazine.
Game Informer's preview includes a host of additional Spider-Man Miles Morales details, including how Venom attacks work, and some of the villains Miles will use his new-found powers against.
The game is also said to be entirely load-free on PS5, even if players fast travel. The next-gen version can be played in Performance Mode at 4K/60fps, or in Fidelity Mode at 4K/30fps. Fidelity features ray-tracing and other visual effects not included in Performance, which replaces ray-tracing with screen-space reflections.