Spider-Man 2 sold 5m copies in 11 days, according to Sony
PlayStation previously reported record 24-hour sales for the game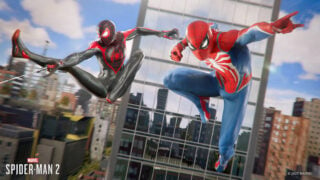 Marvel's Spider-Man 2 sold over five million copies during its first 11 days on availability, Sony has said.
The sales figure was shared during the company's latest financial results, and covers sales up to October 30. Spider-Man 2 was released for PlayStation 5 on October 20.
Previously, Sony announced that Spider-Man 2 was the fastest selling PlayStation Studios game in history, selling through 2.5 million copies worldwide in its first 24 hours.
The last time Sony declared a game its "fastest-selling" at launch was God of War: Ragnarök, which it claimed had sold through 5.1 million copies in its debut week (figures for the first 24 hours weren't provided).
Before that, Sony announced in June 2020 that The Last of Us Part 2 had sold through more than 4 million copies in its first three days. And before that, the record was held by Insomniac's first Spider-Man game, which sold 3.3 million copies sold in its first three days.
Spider-Man 2 was released on 20 October to widespread critical acclaim, making it one of Insomniac's highest rated games to date.
VGC's Spider-Man 2 review calls it "an incredibly confident sequel and one of 2023's best games".
"Incredibly fun to play, fast-paced and full of heart, it takes the best of the Spider-Man lore, and the best of Insomniac's penchant for excellent gameplay sequences, and combines them for arguably the best Marvel game ever," we wrote.