Spider-Man 2 review – When do reviews go live?
Expect media outlets to publish their review scores on Monday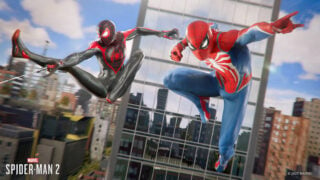 Spider-Man 2 review scores will go live today, Monday October 16.
Readers can expect to see Spider-Man 2 reviews go live from 3pm BST / 8am PDT / 10am EDT, after which all media outlets will be able to share their scores and impressions of the much anticipated PlayStation 5 exclusive.
On VGC, we will also have a 70-minute reviews special podcast featuring a discussion between four people who reviewed the game. That's in addition to our written review and Spider-Man 2 video review.
The Spider-Man 2 release date is October 20, 2023. Sony launched a Spider-Man 2 special edition PS5 console bundle, console covers and DualSense controller earlier this month.
Sony released a new Spider-Man 2 trailer last month, providing a look at its open-world gameplay and expanded New York setting.
Narrated by Insomniac senior creative director Bryan Intihar, the video showed off new locations players will get to visit in the game as well as fresh ways of traversing New York.
In addition to the Manhattan setting featured in Insomniac's original Spider-Man and its spin-off Miles Morales, the upcoming sequel has added Queens and Brooklyn, roughly doubling the size of the world map.