Space Invaders movie signs Mortal Kombat writer
Greg Russo is also writing Saints Row and Resident Evil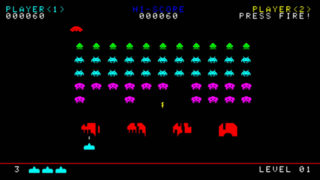 The writer of several upcoming video game movie adaptations has been signed up for a big screen version of Space Invaders.
Warner Bros. acquired the rights to the retro arcade classic in 2014, and its studio New Line has finally actioned a script from Greg Russo, reports Deadline.
Russo is behind the scripts of several upcoming video game movie adaptations including the rebooted Mortal Kombat, which is due to start production later this year.
He is also writing movie scripts for Saints Row and a new Resident Evil Reboot, plus a sequel to Netflix's Death Note. He has also previously written an adaptation of F.E.A.R. for Machinima.
Russo's Mortal Kombat movie is set to release on March 5, 2021, Warner Bros. recently confirmed.
The movie will be produced by Aquaman director James Wan and helmed by Simon McQuoid, who was behind a popular live action PlayStation commercial. The film will begin shooting in Adelaide, Australia later this year.
The movie's release date puts it on a collision course with a live action Masters of the Universe film from Sony Pictures, a fantasy adventure starring Noah Centineo as He-Man.