Sony says Spider-Man 2 is the fastest selling PlayStation Studios game in history
The game sold through 2.5 million copies in its first 24 hours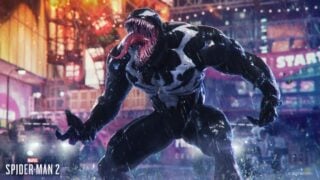 Marvel's Spider-Man 2 is the fastest selling PlayStation Studios game in history, according to Sony.
A tweet on the official PlayStation Twitter account stated that the game had "sold through" 2.5 million copies in its first 24 hours.
"Great news, Spidey fans," the tweet reads, "Marvel's Spider-Man 2 has sold more than 2.5 million copies in the first 24 hours. Thanks for making this a high-flying launch!"
Crucially, the number specifically refers to copies "sold through" as opposed to shipped.
Publishers will sometimes refer to the number of copies a game has shipped, but this isn't necessarily a true reflection of sales because not every copy shipped to retailers sells right away.
The "sold through" figure, however, refers to the number of copies either sold by retailers or bought digitally on the PlayStation Store, making it a more accurate indication of how many players have bought the game so far.
The last time Sony declared a game its "fastest-selling" at launch was God of War: Ragnarök, which it claimed had sold through 5.1 million copies in its debut week (figures for the first 24 hours weren't provided).
Before that, Sony announced in June 2020 that The Last of Us Part 2 had sold through more than 4 million copies in its first three days. And before that, the record was held by Insomniac's first Spider-Man game, which sold 3.3 million copies sold in its first three days.
Spider-Man 2 was released on 20 October to widespread critical acclaim, making it one of Insomniac's highest rated games to date.
VGC's Spider-Man 2 review calls it "an incredibly confident sequel and one of 2023's best games".
"Incredibly fun to play, fast-paced and full of heart, it takes the best of the Spider-Man lore, and the best of Insomniac's penchant for excellent gameplay sequences, and combines them for arguably the best Marvel game ever," we wrote.