Sony pulled Modern Warfare from sale in Russia, Activision says
Game will launch digitally for PC and Xbox One in Russia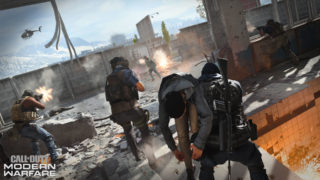 Sony decided not to sell Call of Duty: Modern Warfare on the Russian PlayStation Store, according to publisher Activision.
The move was announced on the Russian Call of Duty Twitter account and later confirmed in a statement provided to VGC.
An Activision spokesperson said: "Call of Duty: Modern Warfare is a fictional game that has been thoughtfully created to entertain fans and tell a compelling narrative. Sony Interactive Entertainment has decided not to sell Modern Warfare on the PlayStation Store in Russia at this time.
"We look forward to launching Modern Warfare digitally in Russia on 25 October on PC via Battle.net and on console via Xbox."
VGC has contacted Sony for comment.
Call of Duty: Modern Warfare was pulled from sale in mid-September, according to Russian website DTF, although Activision declined to comment at the time.
DTF said the game had yet to be made available for pre-order at Russian retailers, suggesting a digital only release was being planned.
According to the site, rumours the shooter wouldn't be released in Russia had been circulating for some time, following both its absence from Russian retail and local media criticism of the game's positive depiction of the Syria Civil Defence volunteer rescue organisation in its reveal trailer.
The humanitarian organisation, also known as the White Helmets, provides medical evacuation in rebel-controlled Syria, and has reportedly been the target of a Russian-backed disinformation campaign positioning it as an al-Qaida-linked terrorist organisation.
The Call of Duty: Modern Warfare street date has been broken in the US ahead of the game's official release this Friday, October 25. The title's available to pre-order from Battle.net, Amazon, Best Buy, ShopTo and Game, among other retailers.
A Call of Duty: Modern Warfare PS4 Pro bundle priced at $399.99/£299.99 is also available to pre-order at retailers including Best Buy, Amazon, Game and Amazon UK.
Modern Warfare PS4 bundles including 500GB and 1TB PS4 consoles are available in selected countries outside of the US and Canada too.