Sony 'is the only platform holder that charges for cross-play', Epic CEO claims
Tim Sweeney says PlayStation demands royalties for any lost revenue share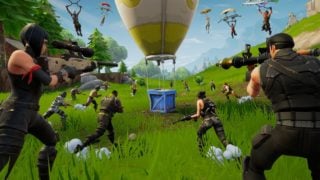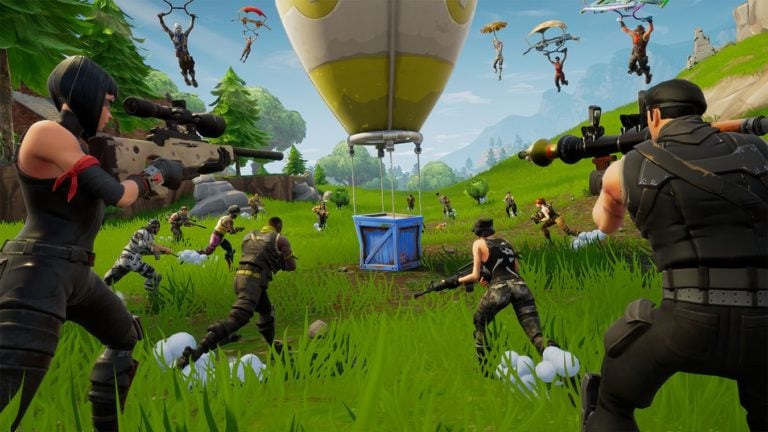 Sony will only support cross-play in games if publishers agree to compensate it when it isn't earning its share of revenue, according to Epic Games' CEO.
Tim Sweeney revealed the deal as part of his testimony yesterday during the ongoing Epic vs Apple lawsuit, where he claimed that Sony is the only platform holder that requires compensation for lost revenue during cross-play.
A document shared as part of the hearing shows that Sony demands royalties if the company's 'cross-party revenue share' drops below 85%.
This means if the proportion of revenue made through in-game purchases is less than 85% of the proportion of users playing on PlayStation formats, Sony wants to be compensated.
The move is designed to avoid players buying in-game items on other platforms' stores then primarily using them on PlayStation.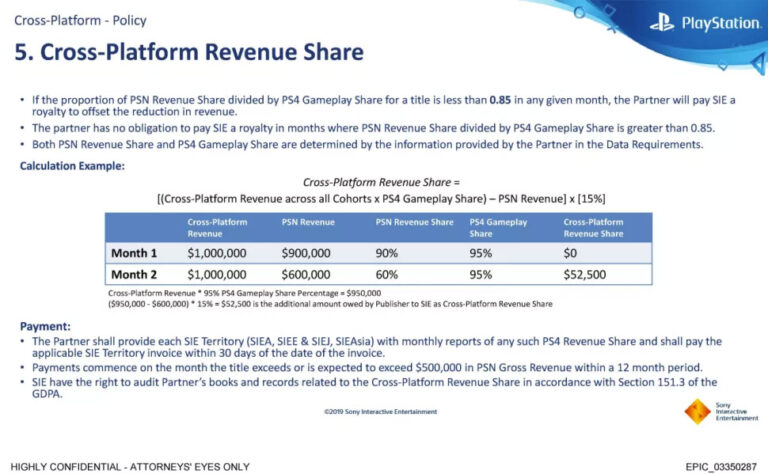 "In certain circumstances, Epic will have to pay additional revenue to Sony," Sweeney stated during the trial. "If somebody were primarily playing on PlayStation but paying on iPhone, then this might trigger compensation."
Sony's deal also states that it has the right to audit the publisher's books to see what their revenue was for a game, so it can determine its revenue share.
Other documents released during the trial show Sony's initial unwillingness to support cross-play.
A 2018 email sent by Epic's vice president of business development Joe Krenier to Sony stated: "We love working with PlayStation, and we want this to be a win/win. The longer this drags out, it will be less so."
According to the email, Epic was not only willing to share its data with Sony but also offered to brand its E3 presence with PlayStation and announce cross-play in conjunction with Sony. As Krenier puts it, the aim was for "Epic to go out of its way to make Sony look like heroes" by supporting cross-play.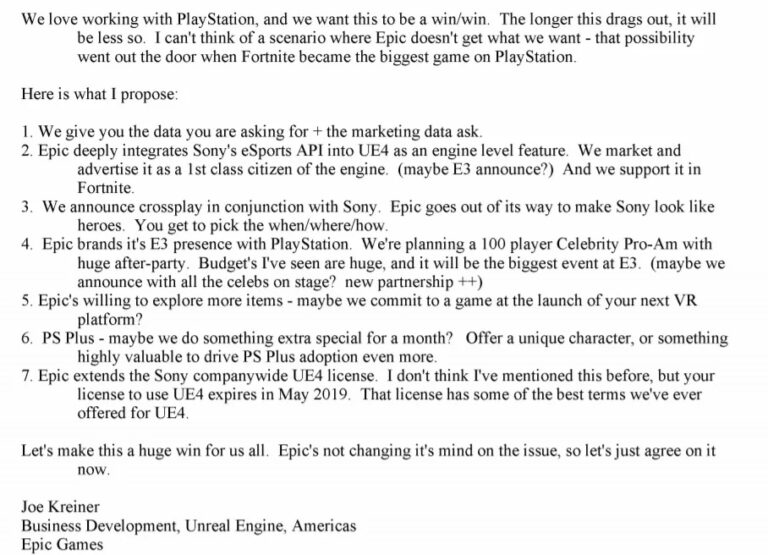 The offer was refused by Sony, with senior director of developer relations Gio Corsi replying that "cross-platform play is not a slam dunk no matter the size of the title," and that "many companies are exploring this idea and not a single one can explain how cross-console play improves the PlayStation business."
Sony had been criticised for some time for blocking cross-play and cross-progression between the PS4 version of Fortnite and the Switch and Xbox One versions. Then, in September 2018, the company performed an apparent u-turn and announced that it was supporting cross-play.
At the time John Smedley, the former CEO of Sony Online Entertainment, had stated that Sony's refusal to take part in cross-play had been due to earnings.
"When I was at Sony, the stated reason internally for this was money," Smedley said in June 2018. "They didn't like someone buying something on an Xbox and it being used on a Playstation. Simple as that. Dumb reason, but there it is."
Related Products
God of War Ragnarök (PS5)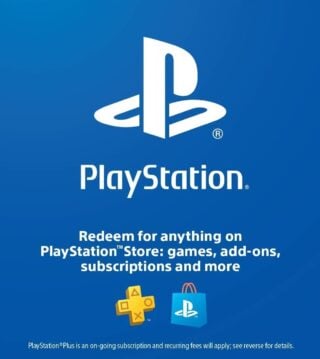 PlayStation Store Gift Card ($50/£50)

$50
Other Products
Some external links on this page are affiliate links, if you click on our affiliate links and make a purchase we might receive a commission.