Sony is bringing back selected DualShock 4 colours this month
Berry Blue, Red Camouflage, Rose Gold, and Steel Black returning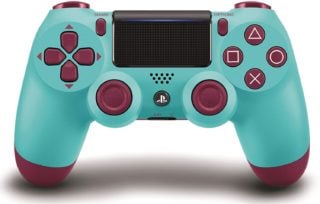 Sony Interactive Entertainment will bring back selected DualShock 4 colours beginning this month.
Berry Blue, Red Camouflage, Rose Gold, and Steel Black DualShock 4 pads will be available at participating retailers globally in August.
Since launching in 2013, the DualShock 4 has been released in over 25 colours, according to the platform holder. The current range can be viewed here.
Sony unveiled PlayStation 5's DualSense controller in April, calling it "a radical departure" from its previous DualShock pads.
It features a two-toned design with haptic feedback, adaptive triggers, a built-in microphone, and updates to hand triggers, grips and the light bar.
Sony released new imagery for PS5's controller and accessories this month, showing the DualSense, PS5 headset, camera and remote from all angles.
It also revealed fresh details on PS5's compatibility with legacy console accessories, confirming that PS4 controllers won't work with PS5 games. However, DualShock 4 will work with PS4 games via backwards compatibility.
Speciality peripherals, such as officially licensed racing wheels, arcade sticks and flight sticks, will work with PS5 games.
Sony has shipped more than 112 million PS4 consoles. It will launch PS5 during the 2020 holiday season.