Sony is advertising this week's PS5 event on US television
Marketing for the event suggests platform holder is planning a major showcase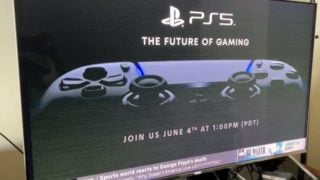 Sony Interactive Entertainment is advertising its upcoming PlayStation 5 software reveal event on US TV networks including ESPN.
The company confirmed on Friday that it would hold a PS5 digital event on June 4.
Kicking off at 1pm PT / 4pm ET / 9pm BST / 10pm CEST, the event will last for more than one hour and offer the first look at PS5 games ahead of the system's global launch later this year, according to Sony.
[UPDATE: Sony has postponed its PlayStation 5 reveal event planned for Thursday, June 4, in light of a wave of anti-racism protests across the United States.]
The fact that the company has chosen to advertise the event on TV indicates it's planning a significant showcase of its next-gen console plans.
In mid-May, Sony CEO Kenichiro Yoshida said the company would reveal a "compelling" line-up of PS5 games in the near future.
And PlayStation boss Jim Ryan added on Friday: "The games coming to PS5 represent the best in the industry from innovative studios that span the globe. Studios, both larger and smaller, those newer and those more established, all have been hard at work developing games that will showcase the potential of the hardware."
Sony said last month that it was too soon to judge its PS5 marketing campaign, in response to criticism about its promotional activities lagging behind Microsoft's Xbox Series X product reveals.
Until recently, Microsoft had enjoyed a favourable response to its frequent and transparent Series X reveals. The company announced the console's name in December when, unusually for a platform reveal, it opted to show the system's design and controller in its very first marketing beat.
Later it put Xbox Series X in the hands of expert content creators, and in May it hosted an Xbox Series X gameplay reveal event, although it subsequently acknowledged criticism of the showcase.
Ryan also also said last week that Sony was aiming to offer "the best possible value proposition" it can with PS5, but that doesn't necessarily mean the lowest price.