Sony has added an extra third PSP game to today's PlayStation Plus Premium update
Echoshift joins the previously announced No Heroes Allowed and LocoRoco Midnight Carnival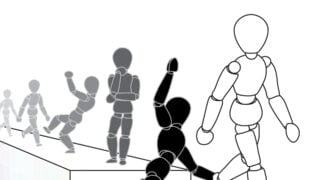 Sony has added a third PSP game to today's PlayStation Plus Premium library update.
The company had already previously announced that two PSP games would be coming to the service on July 19.
These titles, No Heroes Allowed! and LocoRoco Midnight Carnival, have still been added today.
However, they have also been joined by PSP puzzle game Echoshift.
Released in Japan in 2009 and everywhere else in 2010, Echoshift is a sequel of sorts to Echochrome, which is already available on PlayStation Plus Premium.
The game tasks players with getting a stickman to navigate through a series of obstacles to reach an exit within a certain time limit, but each level is designed to make this initially impossible.
Each time players reach the exit, a recording is made of their actions, which then play back as an 'echo' character. Players can then use these echoes to help them get through the stage quick enough to beat the time limit.
As well as Echoshift, No Heroes Allowed! and LocoRoco Midnight Carnival, a number of PS4 and PS5 games have also been added to the PlayStation Plus Extra tier's library today.
These include Stray, Marvel's Avengers and Final Fantasy VII Remake Intergrade, as well as Saints Row IV and Saints Row: Gat out of Hell.
Five Assassin's Creed titles have also been added to the service today – Unity, Black Flag, Rogue Remastered, Freedom Cry and The Ezio Collection.
July's free PlayStation Plus games (which can be claimed by subscribers on all tiers) are Crash Bandicoot 4: It's About Time (PS5/PS4), The Dark Pictures Anthology: Man of Medan (PS4) and Arcadegeddon (PS5/PS4).
Last week Ridge Racer 2, Dino Crisis and Soulcalibur: Broken Destiny briefly appeared on the Italian PlayStation blog post stating they would be added this month, but these were quickly edited out, suggesting they may be coming in a future update soon.