Sony confirms it will hold a 40-minute PS5 showcase on Wednesday
Broadcast will feature "the latest titles from Worldwide Studios and partners"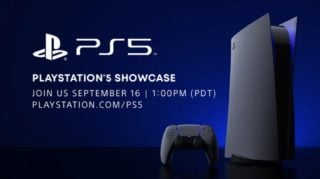 Sony Interactive Entertainment will hold a 40-minute PlayStation 5 showcase on Wednesday, September 16, it's announced.
The digital showcase will be broadcast live on Twitch and YouTube at 1pm PDT / 9pm BST / 10pm CEST and feature updates on "the latest titles from Worldwide Studios and our world-class development partners," communications boss Sid Shuman said on its website.
"Before PlayStation 5 launches this holiday, we wanted to give you one more look at some of the great games coming to PS5 at launch (and beyond!)," he said.
Sony could use the event to finally announce pricing and release details for PlayStation 5, following rival Xbox's own confirmations earlier this week.
Pre-orders for Xbox Series X and S begin on September 22, while PlayStation US has invited a select number of fans to pre-order PS5 directly from the platform holder, despite not having specified its launch details.
Microsoft's two next-generation consoles – each with different technical specs – Xbox Series X and Xbox Series S are set to retail for $500 / £449 and $300 / £250.
Two PS5 models are scheduled to launch during the 2020 holiday season. Unlike Xbox, the only difference between the two is the Ultra HD Blu-ray disc drive, which the Digital Edition console will sacrifice likely for a lower price point.
According to recent analysis, the PS5 Digital Edition could cost at least $50 less than the disc version.
Macquarie Capital analyst Damian Thong told Bloomberg last month he expects the standard PS5 console to cost around $500 and the digital version around $400. Altogether, he forecast Sony would sell over six million units by the end of March 2020.
Last month PlayStation's marketing boss, Eric Lempel, called PS5's upcoming games roster "the best line-up that we've ever seen in the history of PlayStation."
So far PlayStation has confirmed Spider-Man: Miles Morales and Astro's Playroom for the PS5's launch, as well as third-party titles such as Bugsnax and Assassin's Creed Valhalla.
Beyond that, it's revealed new instalments of Gran Turismo, Ratchet & Clank, a remake of Demon's Souls and a Horizon Zero Dawn sequel.
"The content that will be in the launch window and beyond is incredibly exciting," Lempel told GamesIndustry.biz. "I would say that this is the best line-up that we've ever seen in the history of PlayStation, between our Worldwide Studios groups and our partners from all the different publishers around the world.
"We've revealed some of that content, and naturally there will be more to come, but the way that the developers can engage with this platform, and create these new experiences with known IP as well as unknown IP, is incredibly exciting."