Sony celebrates 10 years of PlayStation Plus with its latest free games
Plus free PS4 theme coming this week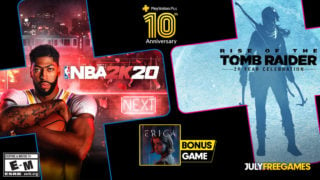 Sony's PlayStation Plus subscription service turns ten years old this week, as the company announces a trio of free games for the month of July.
Available from July 7 until August 3 on PS Plus will be 2K's NBA 2K20 and Square Enix's Rise of the Tomb Raider: 20 Year Celebration.
In addition, a bonus third game will also be available during the July period: 2019 cinematic game Erica, which has players guiding a live-action cast through a narrative adventure.
Finally, PlayStation said it would release a free PS4 theme later this week to celebrate 10 years of PS Plus, and a free online multiplayer weekend will take place starting July 4 at 12:01 AM through July 5 at 11:59 PM (local times).
PlayStation's Store Services GM Nick Maguire wrote on the PlayStation Blog: "It's great to see how much PS Plus has grown over the years – starting with the very first PS Plus game offered, WipeOut HD, to offering more than one thousand games to PS Plus members over the last ten years.
"As we walk down memory lane, we'll leave you with a quick snapshot of PS Plus from this past decade.  Thank you again for your continued support and we look forward to celebrating with you!"