Sonic 'playable' in Super Monkey Ball: Banana Blitz HD
Leaked achievements reveal cameo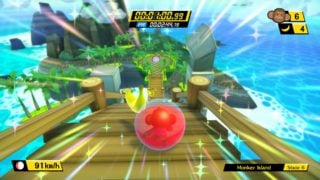 Sega mascot Sonic the Hedgehog will be added as a playable character in the upcoming Super Monkey Ball: Banana Blitz HD.
That's according to Achievements for the Xbox One, PS4, PC and Switch remaster, which have appeared early on site Exophase and make reference to the blue hero.
Featuring updated graphics, optimised control schemes and online leaderboards, Super Monkey Ball: Banana Blitz HD will be released October 29, 2019 on consoles, ahead of a PC release via Steam in winter 2019.

Super Monkey Ball first appeared as a Nintendo GameCube launch title in 2001. The game has players tilting a series of increasingly difficult 3D mazes, with the goal of guiding their monkey-in-a-ball to the end goal.
The original game was directed by Toshihiro Nagoshi, the Sega designer who went on to helm its popular Yakuza series.
The series' last release was 2012's Super Monkey Ball: Banana Splitz for Vita, while you have to go back to 2010's Step & Roll on Wii for its most recent home console instalment.