Sonic Frontiers and Mario Kart 8 Deluxe were UK Black Friday's biggest winners
Physical sales of both games rose more than 200%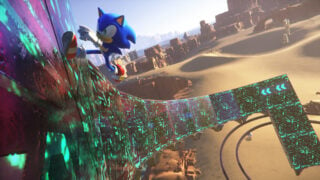 Physical sales of Sonic Frontiers and Mario Kart 8 Deluxe more than doubled this week in the UK thanks to Black Friday sales.
GfK charting data (as reported by GamesIndustry.biz) shows that each game's sales were more than 200% up compared to those of the previous week.
Sonic Frontiers sales rose 203% after numerous retailers dropped the game's price to £30 during Black Friday. This pushed it up the UK physical software charts from 10th to 7th.
Similarly, Mario Kart 8 Deluxe sales increased 226%, partly due to its inclusion in a Black Friday bundle with Nintendo Switch consoles. This led to a similar jump up the charts, from 8th to 4th.
Buy Sonic Frontiers
Amazon was selling off a Switch bundle that included The Legend of Zelda: Breath of the Wild, which partly led to that game seeing a 426% increase in sales compared to last week.
Despite this, GfK reports that overall sales of physical games during Black Friday were down 15% compared to the same period last year, which in turn was down 10% compared to the year before that.
It should be noted, however, that this doesn't take into account Black Friday sales before the Covid-19 pandemic, nor does it take digital sales into account.
For example, the Xbox Series S likely sold in strong numbers during Black Friday due to it being discounted by £60 in the UK, but because it's a digital-only console this will have had no impact on GfK's physical sales charts.
Nintendo Switch Black Friday deals
Elsewhere in the chart, FIFA 23 returned to the top spot, after being pushed down to 3rd by Pokémon Scarlet and Violet.
Scarlet and Violet, which sold more boxed copies in the UK during launch than any other game this year, dropped down to 6th and 3rd place respectively.