Sonic 2 had the biggest ever opening for a video game movie at $71m
The film took the top spot from Sonic's first live-action adventure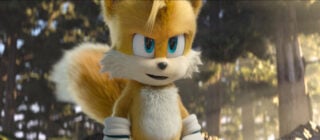 Sonic the Hedgehog 2 has earned $71M in its opening weekend at the US box office, making it the biggest ever opening weekend for a video game adaptation.
According to Variety, the sequel managed to even outdo Deadline's earlier estimation of the film taking home $60m-$65m. 
That's higher than the $58m 3-day opening record achieved by the original film, and when combined with overseas revenue (Sonic 2 opened a week early in Europe, Australia and other markets) of $70 million, the sequel's global total is reportedly now $141 million.
David A. Gross, who runs movie consulting firm Franchise Entertainment Research, commented: "This is an outstanding opening. With solid reviews and very good audience scores, 'Sonic' is going to have a strong run."
Sonic the Hedgehog 2 review
Commenting on what has made the film franchise such a success following Sonic's middling gaming reception in recent years, Paramount's president of domestic distribution Chris Aronson said: "This film did such a great job in service of the fans while not excluding general audiences."
Sonic the Hedgehog 2 reportedly cost around $90 million to create, not including marketing spend.
The original Sonic the Hedgehog was a surprise hit, with it becoming the top-grossing video game adaptation of all time in the US. Paramount Pictures and Sega revealed in February that a third Sonic film and a live-action TV series have entered production.
Toby Ascher, who was a producer on 2020's Sonic film and the upcoming sequel, previously commented on plans for a "Sonic cinematic universe" in production notes released to coincide with the lifting of the Sonic 2 review embargo.
"We're creating a Sonic cinematic universe, so we knew we were going to add characters, like Tails and Knuckles; new to the films but beloved by gamers all over the world," he said.
VGC's Sonic the Hedgehog 2 movie review called it a much better film than the original and said there's a pleasant surprise to be found in the chemistry between its new characters.