Some Spider-Man 2 physical copies are failing to install, it's claimed
It's currently unknown how many discs are effected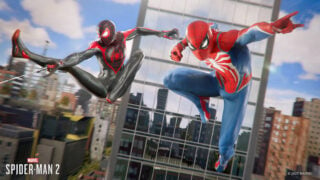 Some players in Europe are claiming that they are unable to install their physical copy of Spider-Man 2.
The game, which was released on Friday, was hailed by developer Insomniac as entirely playable on the disc, without the need for a lengthy download (although Insomniac did advise players who bought a physical copy of the game to download its launch day update.)
Now it appears that several players are facing an issue wherein the game won't install properly from the disc itself.
According to a Reddit thread that is still currently active, the issue seems to be largely affecting players in mainland Europe, with players claiming to be from Romania, The Netherlands and Malta.
There is currently no known workaround for the issue, and PlayStation or Insomniac have yet to comment on the problem.
VGC has reached out to PlayStation for clarification and will update this story should we receive information.
Insomniac has said it's working on a New Game Plus mode and a mission replay feature which are expected to be added to the game in an update later this year.
The Spider-Man 2 review embargo lifted on Monday and critics have heaped praise on the title, making it one of Insomniac's highest rated games to date.
"Marvel Spider-Man 2 is an incredibly confident sequel and one of 2023's best games," according to VGC's 5-star review.