Sony's classic PlayStation games on PS Plus appear to be 50hz – even in non-PAL regions
First-party games appearing in Asian markets look to be the PAL European versions, which run slower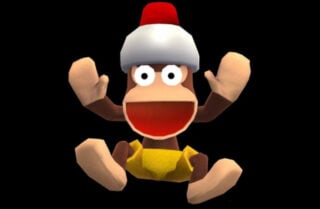 This article was updated at 11:17pm BST.
Some classic PlayStation games being added to PS4 and PS5's revamped PS Plus catalogue appear to be based on the slower PAL 50hz versions.
PlayStation 1 and PSP games started appearing on Asian region PlayStation Stores earlier today, ahead of the revamped PlayStation Plus coming to select markets on Tuesday.
A user playing the PSOne version of Ape Escape via the Indonesian PS Store first noticed that it appears to be based on the PAL version of the game, because it credits Sony Computer Entertainment Europe during its intro (instead of America or Japan) and runs at 25fps instead of 30fps.
All other first-party PSOne games on the "Classics" line-up, including Everybody's Golf, Wild Arms, Jumping Flash and Kurushi, also appear to be based on the European PAL versions, VGC has confirmed (see the Twitter embed below).
In addition, both Worms games, World Party and Armageddon, appear to be based on their PAL versions. However, other third-party games on the service such as Tekken 2, Syphon Filter, Abe's Oddysee and Mr. Driller appear to be based on the NTSC versions.
PAL is a video format used in many regions including Europe and Australia, which runs at 50hz compared to NTSC's faster 60hz refresh rate. Many PAL versions of early console games are considered inferior due to their slower speed, with some even sporting borders at the top and bottom of the screen.
Indonesia uses the PAL video format, so it would perhaps be unsurprising if it's issued European version of some classic PlayStation games on PS4 and PS5, even if it is inferior to the NTSC original.
However, VGC has verified that the exact same PAL versions of Sony's first-party games are what are being offered on the Taiwan PS Store – a region which uses the NTSC video format. This could suggest that Sony plans to roll out PAL games globally.
Sony has form for this: 2018's PlayStation Classic console contained many games that were based on the PAL 50hz versions, even in NTSC markets such as North America, which frustrated fans.
While it was never officially confirmed why Sony opted to include the inferior PAL versions in markets such as the US, where the format was never used, one reason may be the multiple language options offered by European versions.
As explained by Digital Foundry's Richard Leadbetter in its PlayStation Classic analysis: "Fundamentally, the vast majority of these PlayStation titles were designed in 60Hz territories and even back in the day, there was a night and day difference between NTSC and sub-par PAL versions.
"The gap actually widens with the PlayStation Classic compared to original NTSC hardware – it's worse here, because at least back in the 90s, 50Hz software would have run on 50Hz screens, for smooth (albeit slow) gameplay. And it's worse still for potential US buyers of the Classic, who would have never experienced the slower PAL versions to begin with."
The full situation won't become clear until PlayStation Plus rolls out in more regions over the coming weeks.
It's worth noting that Nintendo also faced criticism for appearing to add 50hz versions of its N64 games to the Switch Online service last year. However, by launch, it confirmed that it had made both NTSC and PAL versions available.
PlayStation Plus's Essentials, Extra and Premium tiers will begin rolling out in June in North America and Europe.
The most expensive PS Plus Premium tier will include a library of over 700 games, including 400 downloadable PS4 and PS5 titles, PS3 games available via cloud streaming, and a catalogue of classic games available in both streaming and download options from the original PlayStation, PS2 and PSP generations.
Ubisoft announced on Monday that its Ubisoft+ subscription service is coming to PlayStation, with a Ubisoft+ Classics range coming to PlayStation Plus.
Related Products
Other Products
Some external links on this page are affiliate links, if you click on our affiliate links and make a purchase we might receive a commission.