Smash Bros.' next DLC fighter is Min Min from Arms
Sakurai demonstrates next fighter from home
Super Smash Bros. Ultimate's next DLC fighter is Min Min from Nintendo fighter Arms.
Min Min will be released on Monday, June 29 as part of the game's Fighters Pass 2 or individually for $5.99 USD / £5.39. Mii Fighter costumes will be released on the same day based on Arms, Tekken, Splatoon and Fallout.
In a video recorded in early May but broadcast on Monday, game director Masahiro Sakurai demonstrated the new character from his home and explained that he chose Min Min because Mr Yabuki, the producer of Arms, had said he wanted her to join Smash Bros.
"I think I might be the first director to reveal their own home in an official Nintendo broadcast," Sakurai said.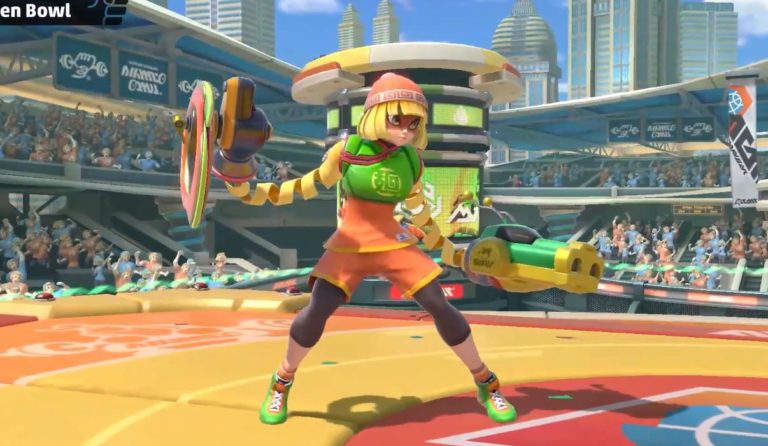 Min Min is a long-range specialist and can change her arms mid-battle, gaining new attacks depending on which limbs she has equipped.
Min Min's Final Smash delivers a barrage of punches, as multiple Arms fighters jump in and team up.
Spring Stadium is the latest stage to be added to Ultimate, themed on Arms. The level features jumping platforms on either side, which propel characters to the top of the arena and damage any opponents in the way.

The DLC adds almost all the stage music from Arms, Sakurai said, which comes to 18 tracks in total.
Finally, Sakurai confirmed that Amiibo figures based on DLC fighters Joker and Hero will be released in fall/autumn 2020.
Nintendo plans to continue to release Amiibo based on DLC characters, the director said, but it doesn't yet know how many will be produced.
Released in June 2017, Arms features an unconventional fighting system where every playable character fights with long-range attacks. Up to four players can battle using a variety of extendable, customizable arms.
Smash Bros. Ultimate's Fighters Pass 2 was announced in January and contains six new DLC characters – one more than the first Pass – originally set to be released before the end of 2020.
However, in March Masahiro Sakurai claimed that work on Super Smash Bros. Ultimate's DLC had been affected by the ongoing coronavirus outbreak.
Related Products
Other Products
Some external links on this page are affiliate links, if you click on our affiliate links and make a purchase we might receive a commission.