Slightly Mad founder hits out at EA after it axes Project Cars
'How are those numbers looking?'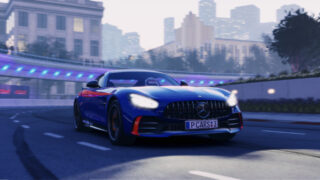 Slightly Mad Studios founder and former CEO Ian Bell has criticised Electronic Arts following the publisher's decision to cancel the Project Cars series.
Bell founded London-based racing game studio Slightly Mad in 2009 and led the company through its $30 million sale to Codemasters a decade later, as well as EA's $1.2 billion acquisition of Codemasters in February 2021.
He left Slightly Mad last October, stating that the time was right to step aside "with the studio's future now assured".
But earlier on Tuesday, EA announced that it had decided to end development of Slightly Mad's Project Cars series in a move that will have a significant impact on the company's 160-plus strong workforce.
Bell tweeted on Tuesday evening: "EA, keeping on being awesome… I said my bit and I stand by every word as they continue to prove them.
"How are those numbers (sorry I mean people, with hopes, dreams and families) looking, at the bottom of those the spreadsheets?"
In a statement provided to GamesIndustry.biz, EA had earlier confirmed that Slightly Mad employees would be moved to other EA Sports and racing games where possible.
"Following an evaluation of the next Project Cars title and its longer-term growth potential, we have made the decision to stop further development and investment for the franchise," the company said.
"Decisions like these are very hard, but allow us to prioritise our focus in areas where we believe we have the strongest opportunity to create experiences that fans will love."

Bell has a history of bad blood with EA, which he previously accused of trying to destroy Slightly Mad after it published the studio's first two games, 2009's Need for Speed: Shift and 2011 sequel Shift 2: Unleashed.
In an interview with YouTube channel SpotTheOzzie in 2017, Bell claimed: "We had made a game called Need for Speed: Shift, we had made a game called Shift 2, and EA came to me and said, two months into Shift 2, can we give you 1.5 million if you agree not to talk to any other publishers, to agree any other games, or work on any other arrangement with any other publisher, and we'll give you 1.5 million and we'll sign Shift 3?
"So, I said OK, that sounds like a good deal. I took the 1.5 million, I paid the guys loads of bonuses, and two weeks before we were due to start Shift 3 they cancelled it with no warning. They said 'we are not doing that anymore'."
Bell claimed the move left Slightly Mad in financial peril, and EA went on to poach several key studio staff.
"They sent emails to three, four, five of our key people. And two of which actually left, because we were in trouble. We had nothing left. We were done. They literally destroyed our company, they tried to kill us, they tried to steal our technology as well."
Singling out EA's former worldwide studios boss Patrick Söderlund as "the worst corporate monster", Bell said the publisher was trying to buy out Slightly Mad.
"They tried to fuck us over, there's no other way to put it. That's what they tried to do. They tried to destroy us, and we have no love for EA in this company. So yes, I remortgaged my home, I put the cash on the line, I put it into the company, I paid the staff for three more months, we made some games and we scraped by."
He added: "Those guys are arseholes. We have no respect for EA. I'll never do a deal with them again, no respect for them, they're horrible human beings, they're corporate monsters."
The original Project Cars was released in 2015 and was critically acclaimed for its attempts to create a realistic driving experience.
Project Cars 2 followed in 2017 and received similar praise, with 140 track layouts in 60 locations and 189 cars to choose from.
However, the third (and now final) game, Project Cars 3, was met with a far more tepid response when it was released in 2020, with critics accusing it of ditching its simulation roots in favour of a more challenge-based arcade style.
Related Products
Other Products
Some external links on this page are affiliate links, if you click on our affiliate links and make a purchase we might receive a commission.