Zelda: Skyward Sword HD's credits confirm it was ported by Twilight Princess HD's developer
Australian studio Tantalus partners with Nintendo for a second time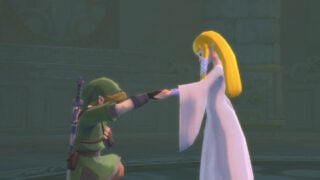 Nintendo Switch's The Legend of Zelda: Skyward Sword HD was ported by the same studio behind 2016's Twilight Princess HD, it's been revealed.
Australian studio Tantalus is credited for creating the HD version of the Wii game, just as it did for the earlier Zelda re-release for Wii U.
Tantalus has built a reputation as one of the leading port and HD conversion houses, having recently worked on Age of Empires II and III's Definitive Editions, as well as Switch versions of Rime, Sonic Mania and more.
However, it's likely Nintendo was also heavily involved in the planning of the HD version. Tantalus CEO Tom Crago said of the company's role on its earlier project Twilight Princess HD:
"[They were] very, very involved. Aonuma-san himself, obviously, he signs off on everything – it's his game. At all levels he was omnipresent. And then a team of people there in Kyoto dedicated to the game, so daily conversations, very regular calls, a bit of back and forth between us here in Melbourne and Nintendo in Kyoto, and regular builds and reporting, and all those things. So yeah, absolutely, they were extremely hands on."
According to dataminer OatmealDome, who claims to have looked at Skyward Sword HD's code, the Wii game was converted to run natively on the Switch. However, like some of Nintendo's previous remasters, some elements are emulated.
Nintendo's European R & D is said to have developed an official in-house GameCube and Wii emulator named Hagi for last year's Super Mario 3D All-Stars compilation, which Skyward Sword likely benefited from in some areas in order to authentically simulate the original Wii game.
Skyward Sword HD was released on Friday and features "smoother and more intuitive" controls, in addition to a 60fps framerate and improved HD graphics.
VGC critic Chris Scullion wrote in our Zelda: Skyward Sword HD review: "While even an excellent remaster such as this can't make Skyward Sword a perfect Zelda game, this is such a drastically improved version of one of the most overlooked entries in the series, and Switch owners simply mustn't overlook it a second time around."
Related Products
Other Products
Some external links on this page are affiliate links, if you click on our affiliate links and make a purchase we might receive a commission.