Shovel Knight 'clears 2.5 million sales'
Milestone announced as game celebrates its fifth anniversary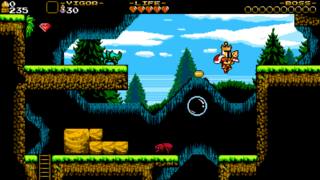 Shovel Knight has cleared 2.5 million sales, according to developer Yacht Club Games.
The studio announced the latest sales milestone in a blog post celebrating the fifth anniversary of the game's release.
The 2D retro platformer took 18 months to hit the one million sale milestone and a further 26 months to achieve two million sales, a feat announced in April 2018.
The celebrated action adventure title, which was brought to life via a Kickstarter campaign, has won multiple awards including Best Independent Game at the inaugural The Game Awards.
It has now been released on 12 platforms, garnering review scores ranging from 85-92 on review aggregation site Metacritic.
Yacht Club Games says the titular character has made cameo appearances in over 25 games including Super Smash Bros. Ultimate, while a Shovel Knight board game Kickstarter campaign is currently underway.
The studio is currently working on two Shovel Knight expansions, campaign game King of Cards and local multiplayer offering Shovel Knight Showdown.
Both were originally scheduled to be released in April alongside new Switch and PS4 physical editions of the game, but were delayed by "several months" in February.