Shin Megami Tensei V review issues top marks in Famitsu
First review praises combat and game world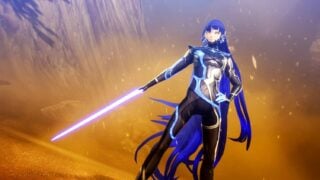 The first Shin Megami Tensei V review has been published in Japanese magazine Famitsu.
As revealed by Ryokutya2089, the publication's four reviewers each awarded the Atlus Nintendo Switch RPG 9/10, for a combined review score of 36/40.
According to early excerpts from the review, Famitsu praised the depth and balance of the game's combat systems, and the unique quality of its apocalyptic Tokyo city, which it said is fun to explore.
According to Famitsu, Shin Megami Tensei V took around 50 hours to complete and 100 hours with all additional content.
The latest entry in the Shin Megami Tensei series sees players control a high school student who must harness newfound powers to fight through a demon-infested Tokyo wasteland using a command-based system,
"Though demons are formidable opponents, some can be worthy allies and recruited via negotiations to fight alongside you in a dying world," Atlus says.
Shin Megami Tensei V is developed by Atlus and produced by Kazuyuki Yamai, who previously directed Shin Megami Tensei IV. The game was first teased alongside the Nintendo Switch itself in 2017, when development was still early.
Shin Megami Tensei V, published by Nintendo in Europe, launches exclusively for Nintendo Switch on November 12.
Related Products
Other Products
Some external links on this page are affiliate links, if you click on our affiliate links and make a purchase we might receive a commission.