Shigeru Miyamoto says he's confident Nintendo won't change after he leaves
"Everyone has an understanding… of what it is to be Nintendo"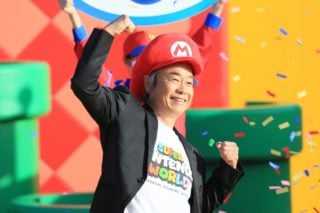 Super Mario and Legend of Zelda creator Shigeru Miyamoto has said he's confident little will change at Nintendo when he eventually leaves the company.
Miyamoto – who joined the Japanese company from college in 1977 –  is best known as the creator of some of Nintendo's best-selling game franchises, including Super Mario, Donkey Kong, Legend of Zelda, F-Zero, Pikmin and Star Fox.
At 70-years-old, Miyamoto is now in retirement age. However, he has previously insisted he's not considering ending his career in the near future.
Speaking in a new interview with NPR, the Nintendo director was asked what he thinks Nintendo will be like without him, when the day of his departure eventually arrives.
"You know, I really feel like it's not going to change," he said. "It's probably going to be the same. There's, you know, people on the executive team, creators within the company and also people who create Mario, they all have this sense of what it means to be Nintendo.
"And so it's not like there's a lot of different opinions that go back and forth. Everyone has an understanding, this kind of shared understanding, of what it is to be Nintendo.
"And so even when there's new ideas that come up, there's always the fact that it's a new idea, but also the fact that, is it a new idea that really has the essence of Nintendo or not?
"And I think that's something that, you know – we have this incredible shared vision, almost a little scary shared vision, about this. So I think there won't – it's not going to change."
Most recently, Miyamoto has been co-producing The Super Mario Bros Movie along with Illumination founder Chris Meledandri. He also officially announced plans to release Pikmin 4 in 2023 during a Nintendo Direct presentation in September.

Miyamoto previously said he's been excited to work on a variety of projects, such as elements of the Super Nintendo World theme park attraction too, as well as mobile games, in addition to his other responsibilities at Nintendo.
The game designer repeated this sentiment when asked by NPR which of his created worlds he would chose to live in, if he could.
"I really love the work environment that I'm in because I get to engage in so many different things," Miyamoto reploed. "So it'd be great if, you know, I could be in an environment where I can change the kind of work I do all the time. So I think it might just be my desk or my bathtub."
Related Products
Other Products
Some external links on this page are affiliate links, if you click on our affiliate links and make a purchase we might receive a commission.