Shadow of the Colossus remake studio working on 'a big PS5 game'
Next-gen console's SSD has Bluepoint Games president "really excited"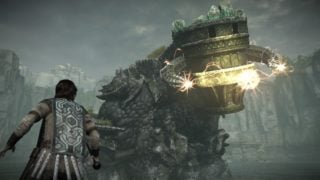 Shadow of the Colossus remake studio Bluepoint Games has said it's working on "a big" PlayStation 5 game.
The announcement was made by president Marco Thrush as part of a larger PlayStation 5 article published on Wired, which also confirms a holiday 2020 launch date for the console and goes into detail on the PS5 controller, which is set to feature haptic feedback, "adaptive" triggers and more.
"We're working on a big one right now," Thrush said. "I'll let you figure out the rest."
It was previously revealed that PlayStation 5 features a "customised ultra-fast, broadband SSD" which delivers dramatically reduced loading times compared to PS4 Pro.
Thrush said of the tech: "The SSD has me really excited. You don't need to do gameplay hacks anymore to artificially slow players down—lock them behind doors, anything like that. Back in the cartridge days, games used to load instantly; we're kind of going back to what consoles used to be."
Laura Miele, chief studio officer for EA, also told Wired: "We're stepping into the generation of immediacy. In mobile games, we expect a game to download in moments, and to be just a few taps from jumping right in. Now we're able to tackle that in a big way."
She added: "I could be really specific and talk about experimenting with ambient occlusion techniques, or the examination of ray-traced shadows. More generally, we're seeing the GPU be able to power machine learning for all sorts of really interesting advancements in the gameplay and other tools."
PS5 lead system architect Mark Cerny Cerny believes the PS5 price "will be appealing to gamers in light of its advanced feature set".
PlayStation boss Jim Ryan recently emphasised the importance of avoiding complacency as the company prepares to launch PlayStation 5.