Sega is releasing another mini arcade machine, this time with a vertical screen
The Astro City Mini V contains 22 games that all play in TATE mode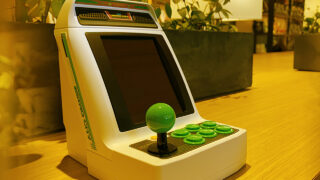 Sega has announced its latest mini console, and it should be an exciting one for fans of arcade shoot 'em ups.
The Astro City Mini V looks similar to the Astro City Mini which was released in 2020, but this time the system's screen has been rotated 90 degrees.
This means every game included in the Mini V is played with a vertical display (also known as TATE mode), like they originally were in arcades.
As such, all 22 games included in the Mini V are different to the 36 games included with the original Astro City Mini.
The console won't just consist of Sega games, and will also include games from other iconic shoot 'em up developers including Eighting, Psikyo and Toaplan.
It will also work with the peripherals released for the previous Astro City Mini, including the separate controller and full-size arcade stick.
The Astro City Mini V is currently only scheduled for release in Japan, where it will be priced at ¥19,580 ($172 / £130).
At the moment, it can only be purchased from Sega's own official Sega Toys website in Japan.
The full list of 22 games is as follows:
Action Fighter (1986)
Armed Police Batrider (1998)
Batsugun (1993)
Battle Bakraid Unlimited Version (1999)
Cosmo Police Galivan (1985)
Desert Breaker (1992)
Dogyuun! (1992)
Gunbird (1994)
Kingdom Grand Prix (1994)
Moon Cresta (1980)
Out Zone (1990)
Raiden (1990)
Samurai Aces (1993)
Shark! Shark! Shark! (1989)
Sonic Wings (1992)
Strikers 1945 (1995)
Tatsujin (1988)
Terra Cresta (1985)
Truxton II (1992)
VV (1993)
Wrestle War (1989)
Zaxxon (1982)