Sega Genesis Mini available to buy today in North America
Retro console will launch in Europe in early October following a delay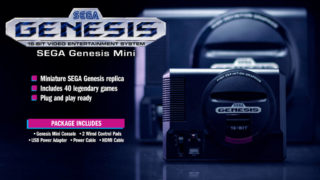 Sega Genesis Mini launches on Thursday September 19 in North America.
Announced in April, the $80/£70 plug in and play console comes with 42 games, two wired control pads, a USB power adaptor, plus power and HDMI cables.
It's available to order and collect today at Best Buy, while online orders can be placed at other retailers including Amazon, Walmart and Target.
The console, known as Sega Mega Drive Mini in Europe, was originally due to receive a wider release today, but its launch was delayed until October 4 in Europe and the Middle East "due to unavoidable logistical challenges".
The first batch of games announced for the console was Ecco the Dolphin, Castlevania: Bloodlines, Space Harrier 2, Shining Force, Dr. Robotnik's Mean Machine, ToeJam & Earl, Comix Zone, Sonic the Hedgehog, Altered Beast, and Gunstar Heroes.
Mega Drive Mini will also play home to Castle of Illusion starring Mickey Mouse, World of Illusion starring Mickey Mouse and Donald Duck, Thunder Force 3, Super Fantasy Zone, Shinobi 3: Return of the Ninja Master, Streets of Rage 2, Earthworm Jim, Sonic the Hedgehog 2, Contra: Hard Corps, and Landstalker.
Also previously confirmed for the system were Mega Man: The Wily Wars, Street Fighter II: Special Champion Edition, Sonic Spinball, Phantasy Star IV, Beyond Oasis, Ghouls 'N Ghosts, Alex Kidd in the Enchanted Castle, Golden Axe, Vectorman, and Wonder Boy in Monster World.
The final 12 games revealed for the console were Tetris, Darius, Virtua Fighter 2, Alisia Dragoon, Monster World IV, Kid Chameleon, Road Rash II, Eternal Champions, Columns, Dynamite Headdy, Strider, and Light Crusader.