Sega Dreamcast is 20 years old today in the West
Company's final console released on 9/9/1999 in America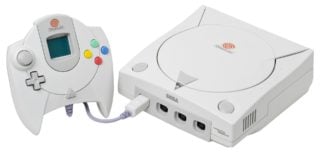 Sega Dreamcast is officially 20 years old today in the West, having first launched in North America on 9/9/1999, almost a year after Japan.
Dreamcast was Sega's final home console, marking the end of the Japanese company's near-20-year stint in the console hardware market.
However, despite its short lifespan the console produced many critically acclaimed game franchises including Shenmue, Soul Calibur, Phantasy Star Online, Crazy Taxi, Jet Set Radio and Rez.
Dreamcast set the trend for modern consoles in a few areas, including its off-the-shelf components designed to reduce costs and built-in modem for online play.
The console enjoyed a strong launch in North America backed by a significant marketing campaign, but ultimately sales declined as Sony's PlayStation 2 arrived on the market.
Despite price cuts and critically acclaimed game releases, Sega decided to discontinue the Dreamcast on March 31, 2001 and restructure itself as a third-party publisher.
Only around 10 million Dreamcast consoles were sold, but it is remembered fondly by many fans worldwide.