Sea of Thieves Season 10 has been delayed to October
Its launch has slipped from August as Rare struggles to pull together its headline feature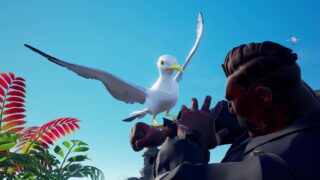 Rare has delayed the launch of Sea of Thieves Season 10 until October.
The company said in a blog post and a video update (below) that it needs a couple of extra months to work on introducing new systems for the open-world multiplayer pirate game.
Season 9 launched in March and according to an FAQ on the game's website, each season can typically be expected to last for around three months.
Rare had been planning to launch Season 10 in August, but on Wednesday it said it had made the "difficult decision" to push Season 10's launch to October 19.
"It's not a decision we've taken lightly, and we share your disappointment that it's something we've needed to do," head of community Christina McGrath wrote.
"However, after careful consideration, we firmly believe that it's the best thing to do for the quality of the release, the sustainability of our development process and the wellbeing of our team."
She added: "Those of you who caught the recent episode of our podcast will have heard us discussing the challenges of implementing new systems into a game like Sea of Thieves. These types of foundational releases are challenging to make, as we have to ensure they interact with all the existing systems in the game.
"One such challenge has been the Season Ten headline feature, which we've already talked about as something that we've found tougher than anticipated to pull together – especially to the quality bar we're striving to meet."
While McGrath acknowledged that many players will already have reached Renown level 100 and feel like they've experienced all there is to do in the current season, she said she hoped other new content would be enough to keep them entertained until Season 10 arrives.
This includes a free, three-part DLC expansion based on The Secret of Monkey Island. The first chapter launched on July 20, with part two set to follow in August and part three in September.
"August and September also have a solid line-up of shenanigans, with a Gold & Glory Weekend kicking things off from August 4th-7th," McGrath said. "Legends Week will then be returning after its inaugural event last year, with new things to do and earn for both Legends and Legends-to-be.
"A special Community Weekend with an exciting new flavour is scheduled for September too. We'll be sharing more about these events in the coming weeks, so please stay tuned for details on what they all entail."
McGrath also said Rare is now planning to release what would have been Season 11's headline content during the second month of Season 10.
In March, Xbox released a 75-minute documentary to celebrate the fifth anniversary of Sea of Thieves.
Sea of Thieves: Voyage of a Lifetime was described by Xbox as an "honest and in-depth doc [which] pulls back the curtain and shows the game's evolution in the most detailed and raw way it's ever been discussed".