Sea of Thieves is getting a three-part Monkey Island expansion which can be played solo
The free DLC will be playable alone or with a crew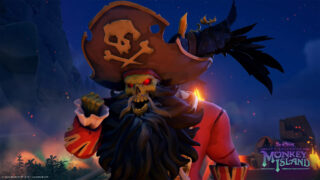 Sea of Thieves is getting a free DLC expansion based on The Secret of Monkey Island.
The new content, which will be titled The Legend of Monkey Island, will be released in three monthly chapters starting on July 20.
According to Xbox: "Your adventures will have you meet Guybrush Threepwood, his beloved Elaine, the dreaded ghost captain LeChuck, Murray the Demonic Talking Skull and more iconic characters.
"You'll get to visit freely explorable versions of both Mêlée Island and Monkey Island, solving puzzles in a point-and-click style adapted for Sea of Thieves first-person view – and it'll all take place in the Sea of the Damned, so you'll have no interruptions from other players as you relive the iconic series in a brand-new way."
In a discussion posted on the official Xbox Wire website, creative director Mike Chapman explained how the game retains the point-and-click style gameplay seen in the original games despite the first-person viewpoint.
"The idea of what could a potential story be if Guybrush and Elaine found their way into the Sea of Thieves, that was something we thought about during the development of A Pirate's Life," he said.
"It felt like that was a really interesting idea to get players guessing: 'Would they actually go tell a Monkey Island story?' So that did inspire the side quest that takes place in A Pirate's Life – let's explore a little sliver of what point-and-click gameplay could feel like in Sea of Thieves.
"You use some items, there's some nested solutions that you need to discover. We were definitely inspired by what a Monkey Island experience could look like in Sea of Thieves."
In March, Xbox released a 75-minute documentary to celebrate the fifth anniversary of Sea of Thieves.
Sea of Thieves: Voyage of a Lifetime was described by Xbox as an "honest and in-depth doc [which] pulls back the curtain and shows the game's evolution in the most detailed and raw way it's ever been discussed".