Scottish Games Sale discounts over 50 Steam games for Glasgow Children's Hospital
Featured games include Viewfinder, Stories Untold and The Baby in Yellow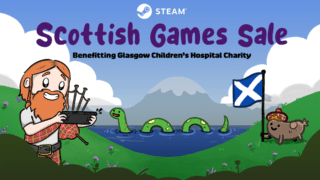 A number of Scottish developers and publishers have joined forces to launch a charity sale on Steam.
The Scottish Games Sale runs until September 14 and includes more than 50 games, all of which have been discounted to raise funds for Glasgow Children's Hospital Charity.
The money will go to the charity's Games for the Weans campaign ('weans' is Scottish slang for  'kids'), which will enable the hospital to buy adapted gaming equipment, consoles and video games for patients, and support the hospital's Play Team, meaning the children always have someone to play with.
Among the games featured in the sale is Viewfinder, the recently released first-person puzzle game where players take photos with an instant camera and use those photos to manipulate the environment.
The game, which was created by Scottish developer Sad Owl Studios, currently has a Metacritic score of 84 and while in development won Europlay 2021, the "Eurovision of video games".
Also on sale is Stories Untold, the critically acclaimed episodic horror adventure puzzle game developed by Glasgow-based No Code and published by Devolver Digital.
No Code is currently working on Silent Hill: Townfall, one of a number of new games in development that are set in the Silent Hill universe.
The Baby in Yellow, which won a Scottish Game Award for Best Small-Budget Game, is also discounted in the sale. The babysitting horror game was originally released on mobile, and has been downloaded more than 150 million times.
The Scottish Games Sale can be found on Steam.