Scarlet Nexus' director wants to make a 'more mature' sequel
Xbox Game Pass has also been praised for giving the game a "boost in publicity and popularity"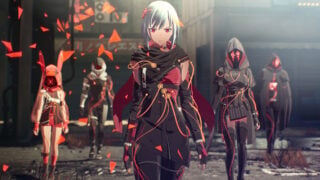 The game director of Scarlet Nexus says he'd like to make a sequel that focuses on a "more mature" storyline.
Although the game enjoyed mainly positive reviews, Bandai Namco has yet to announce a sequel.
However, in an interview with Inverse, Kenji Anabuki has made it clear that he would like to make one, and that he already has ideas for the game's plot.
"If there is a sequel, I would personally want to utilize the superpower theme in areas other than battles," he said.
Scarlet Nexus - launch title
"The world and settings of the story could potentially be created to suit an even more mature audience, by exploring themes like the dangers of having or using superpowers."
Anabuki also said he wants to improve the cutscenes, which in the first game were presented via a series of still images designed to look like an animated slideshow.
"I still want to make them unique like the ones in Scarlet Nexus, while being able to provide our fans with the most satisfying gaming experience," he said.
He also explained that while the feedback on the battle system and story was mainly positive, he also noted that players were asking for more accessibility features, and that in the future he would would like to improve menus and quality of life features.
"We have done as much as we can and added several features after launch into the game based on user feedback," he said.
"However, I have decided that paying more attention to industry trends and the newest user preferences will definitely benefit the gaming experience."
Elsewhere in the interview, producer Keita Iizuka revealed that he was happy to see the game being added to Xbox Game Pass three months after its released.
"It has definitely given Scarlet Nexus a boost in publicity and popularity," he explained. "It has also largely contributed to the visibility and sales of downloadable content."