Saints Row: The Third is being remastered for consoles and PC
4,000 reworked assets, new lighting and more promised for enhanced version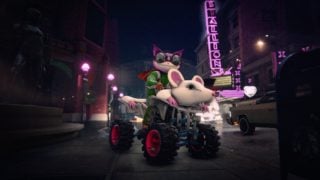 Publisher Deep Silver has announced a Saints Row: The Third remaster will release for PS4, Xbox One and PC on May 22.
The remaster is the work of developer Sperasoft and claims to feature around 4,000 reworked assets, including remodelled weapons and cars, new texture work for "a vast proportion" of the game's environments, and a new lighting engine.
In addition, all three expansion mission packs and more than 30 pieces of DLC from the 2011 original have been remastered and are included in the package.
Saints Row: The Third Remastered gives players control of the Saints at the height of their power, with a campaign that's fully playable in co-op, "outlandish" character customisation and "outrageous" weapons.
The Xbox 360 version of the original has a Metacritic score of 84, with OXM calling the game, "a glorious example of how much fun there is to be had when you let rip with both barrels."
The series' fourth entry, Saints Row IV: Re-Elected, was recently released for Nintendo Switch, following a port of The Third in 2019.
Deep Silver's THQ Nordic has confirmed that a new Saints Row game is in development at creator Volition Studios.
The news was announced last year, as the company provided updates on several of its key properties as part of its first quarter financial results.
"Volition is deep in development of a brand-new Saints Row game, the first full entry in this much loved series since Saints Row IV was released in 2013," it said.
Saints Row: The Third Remastered screenshots