Sackboy A Big Adventure update adds online multiplayer including 10 new co-op levels
Four-player co-op mode supports PS4 and PS5 cross-play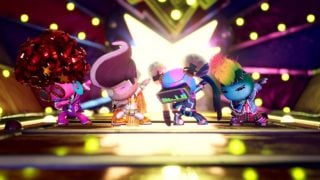 Sumo Digital has launched a new Sackboy: A Big Adventure update which introduces online multiplayer to the game.
The feature was originally planned to be included when the game launched on November 12 but it was delayed to ensure it offered "the very best experience" possible for players.
Supporting PS4 and PS5 cross-play, online multiplayer enables users to play through Sackboy's adventure with up to three teammates.
The update also introduces a set of 10 dedicated Teamwork Levels. Two of these new multiplayer exclusive stages can be found in each of the five main game worlds.
In a PlayStation Blog post detailing the update, Sumo Digital design director Ned Waterhouse urged players to experiment with multiplayer moves including slapping, grabbing and rolling into teammates.
Co-op emotes including hugs, high-fives and chest-bumps can be unlocked with the in-game Collectabells currency or discovered in prize bubbles, while Dreamer Orbs discovered in multiplayer will be carried over to players' local games.
VGC's Sackboy: A Big Adventure review called the game an innovative platformer that makes the most of the PS5's exclusive features.
"Every console launch lineup needs a reliable game aimed at children and young families," our critic wrote. "Sackboy: A Big Adventure fills that hole nicely for the PS5, but it also has enough tricks up its sleeve to make it a definite recommendation for any platforming fan."