Ryan Reynolds is reportedly in talks for a Dragon's Lair movie
Live action feature could debut on Netflix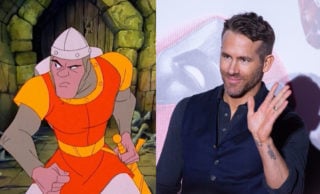 Actor Ryan Reynolds is reportedly in talks to star in and produce a live-action movie adaptation of 80s arcade game Dragon's Lair.
After almost a year of negotiations, Netflix has closed a deal to pick up the rights to the game, according to The Hollywood Reporter, with Dan and Kevin Hageman, who worked on The Lego Movie, signed up to write the script.
Dragon's Lair was originally released in arcades in 1983 by Cinematronics. The game used laserdisc technology, which allowed it to offer movie-style animation and far superior graphics compared to other video games at the time.
The game follows a knight named Dirk the Daring in his quest to rescue Princess Daphne from the clutches of the evil dragon known as Singe and the wizard Mordroc.
Former Disney animator Don Bluth, the artist behind Dragon's Lair, went on to direct animated movies The Land Before Time, All Dogs Go to Heaven and Titan AE.
Dragon's Lair would be the third video game movie for Ryan Reyolds, following 2019's Detective Pikachu and the upcoming Free Guy, which depicts a man who realises he is an NPC in a video game.