Rovio is delisting Angry Birds, saying it 'negatively impacts' its other games
This is the second time Rovio has removed the game from app stores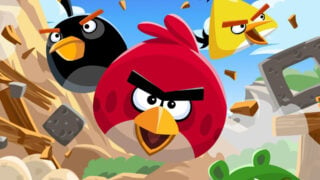 Rovio has announced that it's removing the Android version of Angry Birds and renaming the iOS version, claiming the popularity of the 2009 mega-hit is impacting the business of its other games.
The publisher removed several Angry Birds games (including the 2009 original) from app stores in 2019, claiming it was "for testing purposes".
It then re-released the original title in April 2022, under the name Rovio Classics: Angry Birds. Less than a year after bringing the game back, however, Rovio is pulling it again, claiming its presence has an impact on the performance of its other games, many of which contain lucrative microtransactions.
While the Android version of Angry Birds is being removed entirely, the iOS version is instead being renamed 'Red's First Flight', a move that has seemingly been made to make it harder to identify as the original Angry Birds (and therefore less popular).
"We have reviewed the business case of Rovio Classics: Angry Birds, and due to the game's impact on our wider games portfolio, we have decided that Rovio Classics: Angry Birds will be unlisted from the Google Play Store on Thursday, February 23," a statement from the company reads.
"Additionally, the game will be renamed to Red's First Flight in the App Store pending further review.
"Rovio Classics: Angry Birds will remain playable on devices on which the game has been downloaded, even after it has been unlisted."
It added: "We understand that this is sad news for many fans, as well as the team that has worked hard to make Rovio Classics: Angry Birds a reality. We are extremely grateful to the Angry Birds fans who have shown their love of the brand and this game from the beginning.
"We hope those fans can continue to bring that passion to our live Angry Birds slingshot games such as Angry Birds 2, Angry Birds Friends, and Angry Birds Journey, where our goal every day is to craft the best possible experience for players."
Whereas the re-release of the original Angry Birds cost $0.99 with no microtransactions or ads, the three Angry Birds titles mentioned in Rovio's statement are all free-to-play games with microtransactions, and therefore likely to generate more money for the publisher.
Rovio's statement, then, implies that too many players were buying the $0.99 game and only playing that, instead of trying the other, potentially more lucrative titles.
Angry Birds community manager Shawn Buckelew explained the reasoning for the app's removal in more explicit terms on the game's Discord server.
"As the statement says, it is negatively impacting our other games, which is what we as a company have to focus on," Buckelew said.
"If those other games do not improve and grow, then the outlook of the entire company changes. It's harder to create new games, or work on new projects. I'm sure that's not something you would want."