Round-up: Critics review Journey to the Savage Planet
Typhoon's debut FPS releases this week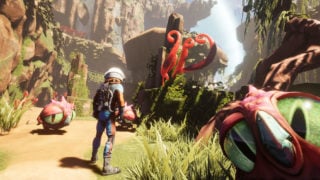 Media reviews have been published for Typhoon Studios' Journey to the Savage Planet.
Journey to the Savage Planet is described as "an aspirational and upbeat first-person adventure and exploration game" set in a bright and colourful alien world.
As an employee of Kindred Aerospace, "the 4th Best Interstellar Exploration Company," players are dropped onto the uncharted planet AR-Y 26 and invited to explore, catalogue alien flora and fauna and determine if this strange planet is fit for human habitation.
At the time of publishing, Savage Planet has a score of 74 (PS4), 76 (PC) and 74 (Xbox) on review score aggregation site Metacritic.
The game will release on PlayStation 4, Xbox One and PC (Epic Games Store) on January 28.
Journey to the Savage Planet review round-up