Rockstar reportedly turned down Eminem for a GTA movie
Top Gun director Tony Scott was also reportedly attached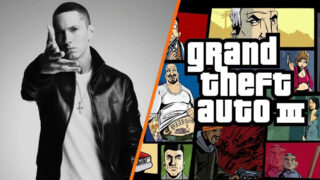 Rockstar Games reportedly once turned down a GTA movie starring Eminem, which would have been directed by Top Gun director Tony Scott.
According to Kirk Ewing, an agent and co-founder of virtual avatar app Veemee, a late-night conversation with former Rockstar boss Sam Houser almost lead to the multi-time grammy winning rapper starring in a film based on the franchise.
Speaking on  Bugzy Malone's Grandest Game podcast, Ewing recalled: "Because of the relationship that I had with Rockstar and I had with Sam, I actually tracked him down to his hotel room one night where I knew he was going to be staying for a while, and the two of us stayed up late and talked about the possibility of making a film.
"This was just after Grand Theft Auto 3. And I think at that point, it was still in Sam's mind that it might be something that he wanted to do."
He continued: "I remember taking a call at about 4am  from one of the producers in LA with an offer to make a film, and he said: 'Kirk, we've got Eminem to star, and it's a Tony Scott film, five million on the nose, are you interested?'
"And I phoned up Sam and said: 'Look, you need to listen to this. They want Eminem in the Grand Theft Auto movie and Tony Scott to direct.' And he said: 'Not interested.'
"At that point, they withdrew from any conversation about making a film, when they realised that the media franchise that they had was bigger than any movie that was going on at the time."
While rumors have persisted over the years about a potential Grand Theft Auto movie, nothing has ever come to fruition.
The Gamechangers, a 2015 film about the creation of GTA itself, was produced by the BBC and starred Daniel Radcliffe as Sam Houser.
Take-Two Interactive attempted to halt production of the film by filing a lawsuit against the BBC for copyright infringement, but was unsuccessful.
The day after the film was broadcast on the BBC, Rockstar's official Twitter channel asked: "BBC, was Basil Brush busy? What exactly is this random, made up bollocks?"
Related Products
Other Products
Some external links on this page are affiliate links, if you click on our affiliate links and make a purchase we might receive a commission.