Rockstar ramps up for next-gen with number of job ads
Grand Theft Auto studio hiring for 'next-gen open word character-based games'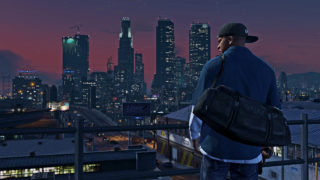 Grand Theft Auto studio Rockstar North is seeking to fill multiple positions for work on next-gen projects.
The Edinburgh, Scotland-based studio is looking to appoint an animation systems programmer to help it develop "advanced animation systems for large open world character-based games".
The studio has a separate opening for a junior animation programmer based in the same department, which is described as "a global team of programmers and researchers who collaborate on pushing the boundaries of character animation on next generation hardware".
Another opening is for an environment terrain artist to help "create next-generation worlds for exciting upcoming projects". The successful applicant would be tasked with "sculpting, modeling and texturing terrain for next-gen game environments".
Fellow Scottish studio Ruffian Games is working on multiple projects alongside Rockstar, according job listings advertised by the Crackdown 2 developer in October, which called for individuals with "generalised experience in multiplayer action games developed for PC, Xbox One, PlayStation 4 and future platforms."
The recruitment drive remains open and Ruffian says: "This being Rockstar, there's not a huge amount of information available on exactly which titles, or indeed which platforms, but given Rockstar's portfolio, it should be reasonably simple to make an educated guess or two."
Rockstar released Red Dead Redemption 2 for PC on November 5 and the title will be a Stadia launch game on November 19.
Sources recently told VGC that Rockstar New England had shelved development of Bully 2, however it's possible work on the sequel could have restarted elsewhere.
In June, Rockstar's parent company Take-Two said it expects new entries in its major franchises to be released more frequently in the future.
Red Dead Redemption 2 arrived over eight years after the original game released and there haven't been new Grand Theft Auto or BioShock titles since 2013.
Grand Theft Auto V has shipped over 115 million units worldwide, Take-Two said last week.
Sony recently announced a holiday 2020 launch date for PlayStation 5 and went into detail on the PS5 controller, which is set to feature haptic feedback, "adaptive" triggers and more.
Microsoft announced in June that it's next generation Xbox, Project Scarlett, will launch holiday 2020 alongside Halo Infinite.