Rockstar Launcher update fails to fix Red Dead 2 PC issues for many
Some users even claim latest update has introduced new problems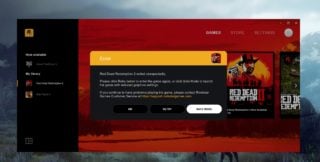 Rockstar has released another update for the Rockstar Games Launcher in a bid to address issues experienced by Red Dead Redemption 2 players.
Users have encountered a host of issues since the game launched for PC on Tuesday, leading to the release of two previous launcher updates and a Red Dead Redemption 2 title update designed to ease the problems.
In the latest post on the Rockstar Support Twitter account, players are advised to restart the launcher in order to apply the most recent update, which was released on November 7 and is said to include "additional improvements".
[Update November 9: A more recent update to the Rockstar Games Launcher targets the Red Dead Redemption 2 PC exited unexpectedly errors that have impacted many players since the title released on Tuesday.]
Rockstar Games Launcher update Nov 7
Improvements to address issues that resulted in the Rockstar Games Launcher displaying the error "The Rockstar Games Services are unavailable and offline play could not be verified" when launching Red Dead Redemption 2
Some users are reporting finally being able to launch the game successfully, but most responses to Rockstar's tweet come from scores of exasperated players still unable to do so.
There are also complaints from users who say they're able to play the game but that it's hamstrung by technical problems, some of which have emerged since the most recent launcher update was released.
One of the most common problems encountered by players is the "Rockstar Games launcher exited unexpectedly" issue.
In a statement issued to VGC earlier this week, Rockstar said the most common cause of the error was out of date graphics drivers and recommend users download up to date versions. It also suggested disabling anti-virus software and clearing local profile details.
Red Dead Redemption 2 has shipped almost 26.5 million units since its original release on PS4 and Xbox One in October 2018, publisher Take-Two claimed during its second quarter earnings call on Thursday.