Robot crafting game Main Assembly enters Steam Early Access
With new challenges, sandbox environments and cosmetics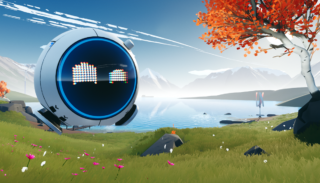 Robot crafting and creation game Main Assembly has entered Steam Early Access.
Developed by Bad Yolk Games and published by Team17, the title lets players "construct any robot or contraption imaginable" and set them loose in open-world environments.
It includes a visual programming language which players can use to set up and even automate controls for their creations, and physics like aerodynamics and robot destruction.
The game features solo challenges and competitive online multiplayer activities, while players can share their creations through Steam Workshop.
Following several closed and open beta tests, Main Assembly enters Steam Early Access with fresh challenges, two new sandbox environments and additional cosmetics.
"We've already seen the incredible creative potential of Main Assembly in recent months," said Max Everingham, Team 17's head of publishing. "Its growing and passionate community has already produced some mindblowing contraptions from history, the modern world, and pure imagination throughout the game's various beta releases.
"The move to Early Access will continue to build on that impressive creative trajectory in the months ahead, as more content updates bring even more possibilities for players to use in their creations."