Robert Altman, the CEO and founder of Bethesda parent ZeniMax, has passed away
Xbox boss and Microsoft CEO among those to pay tribute to Altman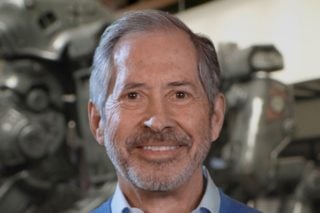 Robert Altman, the CEO and co-founder of Bethesda parent company ZeniMax Media, has died.
"We are deeply saddened to tell you of the passing of Robert A. Altman, our Founder and CEO," ZeniMax said on Thursday.
"He was a true visionary, friend, and believer in the spirit of people and the power of what they could accomplish together. He was an extraordinary leader, and an even better human being."
ZeniMax also shared one of the company-wide emails Altman sent out on a weekly basis during the pandemic: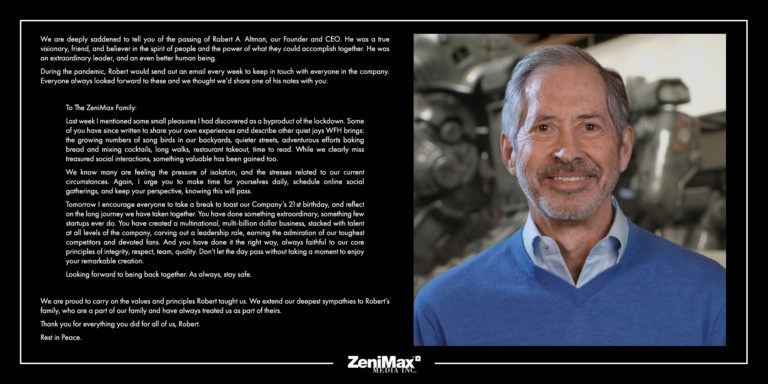 Among the many to pay tribute to Altman were Xbox head Phil Spencer and Microsoft CEO Satya Nadella.
Microsoft announced its intention to acquire ZeniMax Media and its game publisher Bethesda Softworks for $7.5 billion in September last year, with the deal expected to be completed in early 2021.
Microsoft's acquisition of ZeniMax Media will see Xbox Game Studios grow from 15 to 23 development teams.
Employing some 2,300 staff worldwide, Bethesda Softworks studios include Bethesda Game Studios (Fallout, Elder Scrolls), id Software (Doom), ZeniMax Online Studios (Elder Scrolls Online), Arkane (Dishonored, Prey), MachineGames (Wolfenstein), Tango Gameworks (The Evil Within), Alpha Dog, and Roundhouse Studios.
Xbox head Spencer recently said he believes Bethesda's development teams will be "very, very critical" to the future of the Xbox platform.