Riot is bringing its games to Game Pass, including mobile titles
Subscribers will unlock all champions in League of Legends titles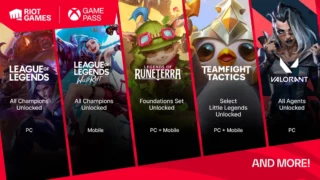 Riot has partnered with Microsoft to bring its games to Game Pass, which in a first for the service includes mobile games.
All Game Pass members will be able to play League of Legends (PC): All Champions Unlocked, League of Legends: Wild Rift (Mobile): All Champions Unlocked, Legends of Runeterra (PC & Mobile): Foundations Set Unlocked, Teamfight Tactics (PC & Mobile): Select Little Legends Unlocked and Valorant (PC): All Agents Unlocked.
Players will also receive bonus experience across select titles.
"We've always respected Xbox's relentless push to drive gaming forward, and we're proud to add our games to the Xbox catalog through Game Pass," Riot said in a statement.
"We're also thrilled to welcome Xbox players into Riot's ecosystem of diverse and passionate gamers across the world.
"In the coming months, we'll share more about the partnership and how members can access the Game Pass content. For more information on Riot's biggest titles coming to Game Pass, stay tuned to riotgames.com and Xbox Wire."