Ring Fit Adventure continues Japan sales momentum
Fitness title tops the region's weekly sales chart as over 2m global sales reached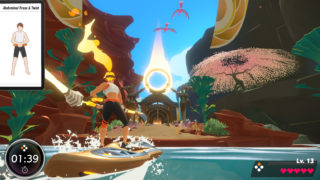 Ring Fit Adventure has continued its strong sales momentum in Japan, topping the region's sales chart for the week ending February 2.
Since its release in October 2019 Ring Fit Adventure has seen steady sales in Japan, having only dropped out of the weekly top four on three occasions – and even those dips were likely driven by stock shortages.
The fitness title has sold in excess of 650,000 copies in Japan to date, according to Famitsu data, and over 2 million copies worldwide as of December 31, 2019, according to Nintendo.
Japan suffered stock shortages of Ring Fit Adventure over the Christmas sales period, with some of the country's biggest retail stores having seen their displays left empty.
In a statement published on its website in November, Nintendo Japan apologised for any inconvenience caused by what it called a "short supply" of stock throughout the country.
In VGC's Ring Fit Adventure review, we called the title "a unique and entertaining adventure that could offer laxed gym-goers a compelling route back into exercise."
---
Famitsu Japan game sales 27/01/20 – 02/02/20
[SW] Ring Fit Adventure – 30,111 (652,757)
[SW] Pokemon Sword and Shield – 29,429 (3,379,737)
[PS4] Yakuza: Like a Dragon – 21,158 (217,780 )
[PS4] Dragon Ball Z: Kakarot – 13,866 (120,9072)
[SW] Dr. Kawashima's Brain Training for Nintendo Switch – 11,958 books ( 132,531)
[SW] Super Smash Bros. Ultimate – 10,592 (3,533,321)
[SW] Minecraft – 10,067 (1,243,560)
[SW] Mario Kart 8 Deluxe – 9,810 (2,756,492)
[SW] Super Mario Party – 5,781 (1,330,145)
[SW] Splatoon 2 – 5,640 (3,306,848)
Famitsu Japan hardware sales 27/01/20 – 02/02/20
Switch – 54,873 (10,754,337)
PS4 – 3,846 (7,397,250)
PS4 Pro – 2,436 (143,5533)
Switch Lite – 2,049 (1,269,589)
New 2DS LL – 552 (1,696,817)
New 3DS LL – 47 (5,886,276)
Xbox One X – 22 (18,891)
Xbox One S – 16 (92,770)