Reviews of The Super Mario Bros Movie are mixed as the film hits cinemas
Nintendo and Illumination's animated movie is released today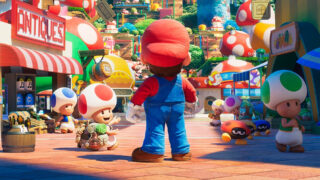 The Super Mario Bros Movie arrives in cinemas today, as it's revealed that critics are divided over it.
The movie, which is produced by Nintendo and Illumination Entertainment, is released in over 60 markets today, including the US and the UK.
At the time of writing, movie review aggregator Rotten Tomatoes has the movie's 'Tomatometer' rating at 54%, which means slightly more critics liked it than disliked it.
According to the site's statistics, of 93 critics' reviews currently listed, 51 are positive and 42 are negative.
Compared to other video game movies aimed at family audiences, Sonic the Hedgehog movie has a Rotten Tomatoes score of 64% while its sequel scored 69%. Detective Pikachu scored 68% but The Angry Birds Movie scored 43%.
Since the movie has only just released today, it remains to be seen how its Rotten Tomatoes 'Audience Score' will go – these are verified ratings posted by movie-goers and are often higher than those of critics. For example, the Sonic movies have audience scores of 93% and 96% respectively.
Rotten Tomatoes' list also includes reviews from 27 'Top Critics', who Rotten Tomatoes describes as "approved critics who excel at their craft". These are similarly split, with 13 positive reviews and 14 negative.
Among the positive reviews, Richard Roeper of the Chicago Sun-Times wrote: "With an ending clearly setting up further adventures to come, The Super Mario Bros is a solid kickoff to a new chapter in this enduring, multi-platform franchise."
Christopher Cruz of Rolling Stone concluded: "As Nintendo's first serious attempt at conquering filmmaking, it's a lovingly crafted entry point with the potential for more."
And Owen Gleiberman of Variety added: "Its ingenuity is infectious. You don't have to be a Mario fan to respond to it, but the film is going to remind the millions who are why they call it a joystick."
Negative reviews tend to concur that the plot and character development are shallow. Soren Andersen from the Seattle Times claims "everyone is a micron deep" and says the movie features "pixels without much in the way of personality".
Clarisse Loughrey of the Independent wrote: "It's hard to demand all that much from a Mario Bros film when its source material has been historically devoid of plot, but shouldn't we be allowed to demand a little more than mere competency?"
Zaki Hasan of the San Francisco Chronicle, meanwhile, said the film is "occasionally amusing but rarely engaging", adding that "it leaves one feeling like they're standing to the side and watching someone else play a video game".
The Super Mario Bros Movie stars Chris Pratt as Mario, Charlie Day as Luigi, Seth Rogen as Donkey Kong, Anya Taylor-Joy as Peach, Jack Black as Bowser and Keegan-Michael Key as Toad.
Related Products
Other Products
Some external links on this page are affiliate links, if you click on our affiliate links and make a purchase we might receive a commission.